Another live hatch at the PaP Wildfowl Trust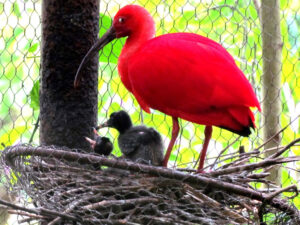 Over the years Scarlet Ibis are bred and released in one of the aviculture programmes at the PaP Wildfowl Trust. In 1986, the Pointe-a-Pierre Wildfowl Trust together with other NGO's successfully petitioned the then Government of Trinidad & Tobago to declare our National Bird, the Scarlet Ibis (Eudocimus ruber) as a protected species.
Recently we have read the appalling news of the illegal hunting & slaughter of our National Bird and a migratory flock of Flamingoes in the Caroni Swamp. Trinidad & Tobago have laws that protect our National Bird and prohibit hunting them and other wildlife during the closed season. In the 1960's our National Bird stopped breeding in our Country because of this very same reason.
It is deeply regrettable that we do not have enough Game Wardens to patrol & monitor our wetlands & forests so making the Forestry Division & the Ministry of Agriculture, Land & Fisheries incapable of bringing these monsters to book. At the PaPWFT we continue to breed & release our locally endangered waterfowl.